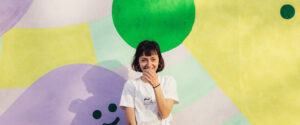 Hello there, I'm Lucia and I am an Italian illustrator and designer based in Brussels. I like circles, soft shapes, surreal scenes and funny characters, all mixed with a pinch of humor and irony. My work ranges between branding, advertising, murals and publishing.
Contacts
→ luciabiancalana.wait@gmail.com
Books
Novantanove volte un volto, Pièdimosca edizioni 2022
Cicero, Pièdimosca edizioni 2019
Live paintings
We all need water @Mart Rovereto 2023
Stan Smith Forever @KMSKA Antwerp 2021
Ichos Eikòna @Cinéma Sala Pegasus Spoleto 2018
Dèmone @Lars Rock Festival Chiusi 2018
Kurt Vonnegut @Urbino e le città del libro 2016
Exhibitions
Novantanove volte un volto @ZOO Bologna 2022
Emoticons @KAVKA Antwerp 2022
PG_X Manifesti @Palazzo Penna Perugia 2021
Le storie degli altri @Torino graphic days 2019
I am, you are @BilBOlbul OFF Bologna 2018
Murals
Day and Night @Leuven 2023
Isala Van Diest @Science park Niel 2023
't is weer proper @Oostende 2021
Let's grooow @Milan 2021
Natural Invasion @Overijse 2021
Embrace the different @Scherpenheuvel-Zichem 2020
Mermaid's song @Antwerp 2019
Mentioned
Autori di Immagini 2021, World Illustration Awards 2022 and 2020, Cosmopolitan, FrizziFrizzi, Picame, Artribune, Exhibart, Brillo Magazine, Collater.al
Pic by @Katoopeters. Website designed by Lucia Biancalana and developed by Irene Sgarro.